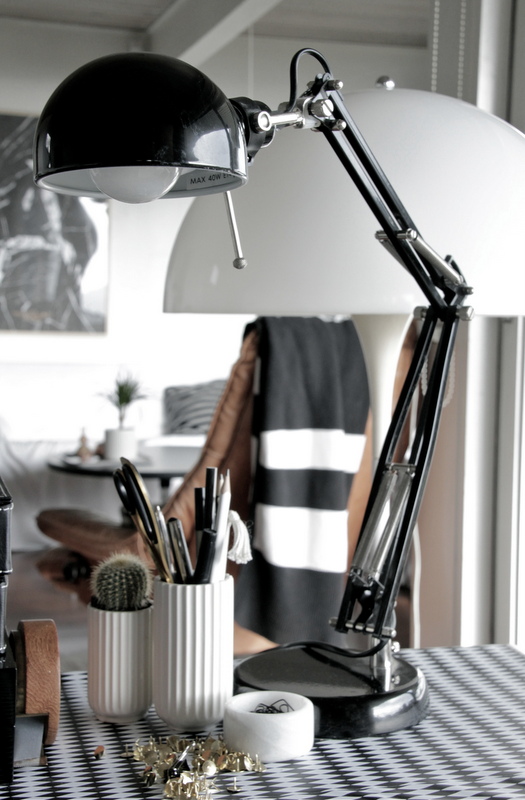 A nice and welcoming chair
It might be very obvious, but feeling well where you work is very important. It does not mean you have to invest in the most ergonomic office chair you can find, but you must make sure that you are well seated in the chair you have available. It can be one of your dining chairs, or just an old chair you found at a flea market – the main thing is that you feel comfortable in the chair and the chair invites you to sit down and work. I'm using one of our dining chairs and I vary it little with different cushions or a lambskin.
Good lighting
The natural light and artificial light creates life at your home office. Lighting should consist of a good combination of general lighting and direct work light. General lighting is inherently the general lighting in the room you are working – both the artificial and the natural. Make sure you have the ability to foreclose sunlight. A dimmer switch is also a good idea. You can then adjust the lighting depending on whether you are working or sit and watch a film in the sofa.
Direct work light is concentrated light, and will typically be an architect lamp, spot or similar. They can be large or small, fixed or free standing – the main thing is that they shed direct light wherever you're working. There are a huge range of work lights, think through your needs, how much space you have and how flexible you want your work lighting should be – does it have to be moved, is it most convenient hooking it on the wall, etc.. If you for example often sit and work by the dining table, then it may be convenient to have a table or floor model that can be moved away when not working.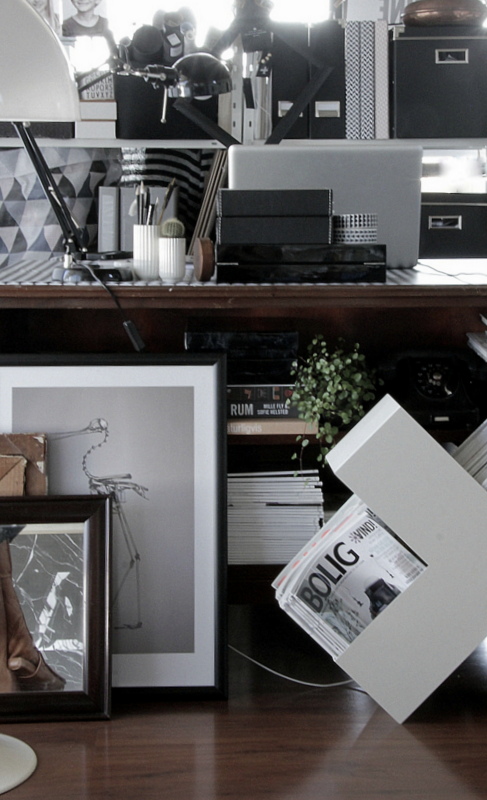 Decorate in the same style as the rest of your home
When you work from home, I think it is important to integrate the interior of your workspace with the interior in the rest of your home. Your home should not look like a public office because you work from home! Of course you must think about functionality, but try to chose furniture and decorations that is consistent with the interior in the rest of your home. It might not even be necessary to invest in new furniture. Take a look at the things you already have with new eyes – a console table or an old kitchen table might serve as a desk? Use your imagination (and maybe a bucket of paint) and you can get on track without major investments.
Add a personal touch
Your home office should be personal – it should reflect who you are and maybe what your business is good at and stands for. And how do you do that? Surround yourself with things that you like – your favorite things belong on your desk or shelf nearby. It can be anything from figurines, ornaments, pictures, or just a beautiful cup for your coffee. Think about what you like looking at and what makes you happy, and give yourself a treat – you deserve it!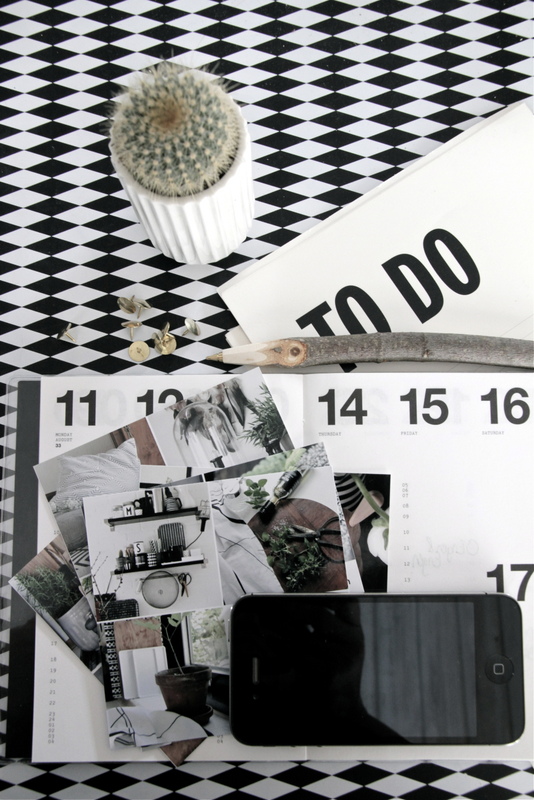 Good order and beautiful storage
This is the big challenge of every workspace – order and storage. I promise you that I am not the best at this – my desktop can sometimes (or often …) look like a disaster area… Good and functional storage don't solve the problem alone, but it helps a lot! Again, I point out what I wrote about in section 3 – find storage options that fall in line with the style and colors of the rest of your home.
There are many beautiful alternatives to the red, green and blue binders. I myself am quite fond of IKEA's storage solutions but HAY, Nomess Copenhagen and Ferm Living also has a rich selection of beautiful and practical storage. Be sure to have plenty of folders, boxes, etc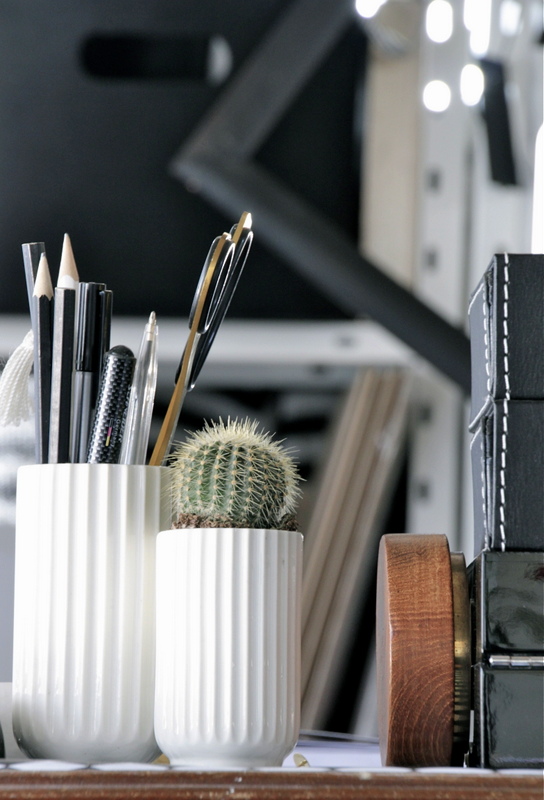 Pictures for inspiration
This point is somewhat in line with section 4. For one of the things that can be very inspiring and at the same time make your home office more personal are pictures. It can be pictures of your kids, family or your ultimate role model.
It may be pages from a magazine; for example, an article that has inspired you or it can be quotes and quotations. Exactly what it can be is of course very individual. Try to think about what inspires you, and hang it on the wall at your desk or on a bulletin board so you can see it when you're working.
Flowers and plants
Computer, papers, binders, etc. give your desktop a very strict and hard look. To provide a little soft contrast, it can be a good idea to use flowers and plants. The space might be limited, but a small jar or vase with a flower will make things a little nicer and quieter to look at.
Heidi