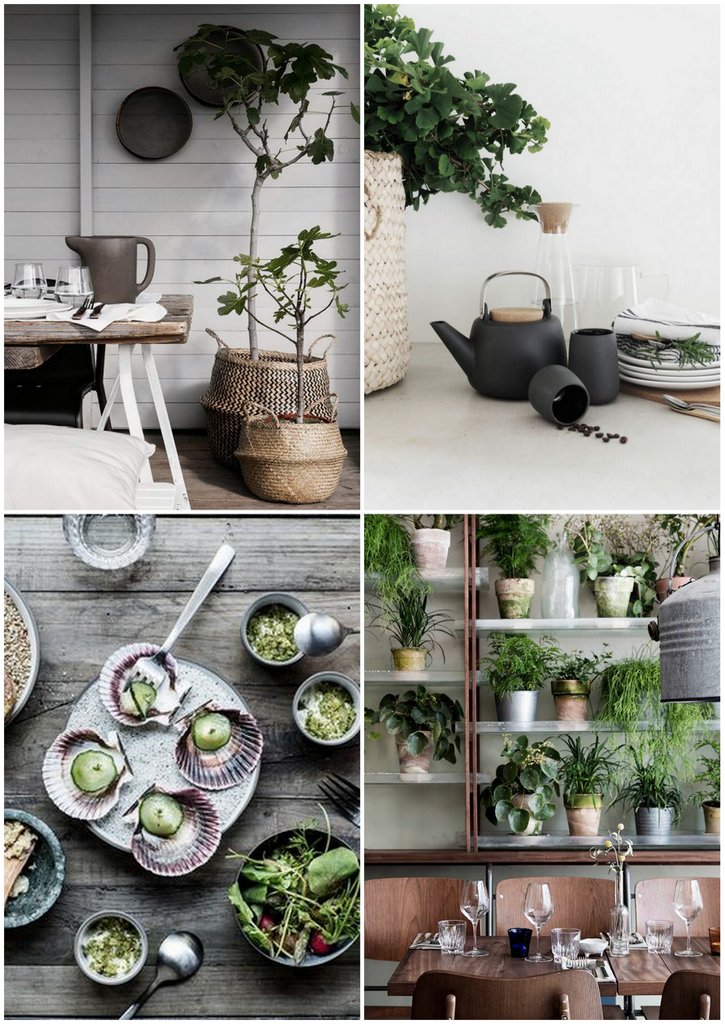 Eating in green surroundings does something to your appetite – at least I believe it does! I love eating outside and luckily we hopefully will get many chances do so in the upcoming months.
There is just something about the fresh air and the green view that makes the food taste a bit differently and better. The kids love to eat outside, and yes they tend to eat more when the dinner is served outdoors 😉 Sounds familiar to anyone else?
It's also possible to create that outside feeling indoors, as they have done in the interesting new Cofoco restaurant Väkst. The two last pictures in my moodboard is from Väkst – gotta love that atmosphere! The restaurant is placed at my favorite Copenhage hotel, SP34 and it is decorated as one big greenhouse. I was invited to the opening of the restaurant last week, but as I don't live that close to Copenhagen, I couldn't just pop by. But Väkst is definitely on the top of my list for my next visit to Copenhagen. I just love the green decoration and the feeling of being outside even though you're placed indoors (or at least that is what I think it must feel like…). You can see more pictures from Väkst here.
The first picture in my moodboard is form IKEA Livet Hemma, and is styled by the ever to talented Pella Hedeby. Love this rustic summer table setting and the beautiful big fig trees.
The second pictures is one I have styled myself last year for VIVA Copenhagen (photo by Diana Lovring).
So let us hope we will get many chances to eat outside this summer – can't wait!
Have a great day, everyone and thank you so much for visiting my blog!
Best wishes from Heidi